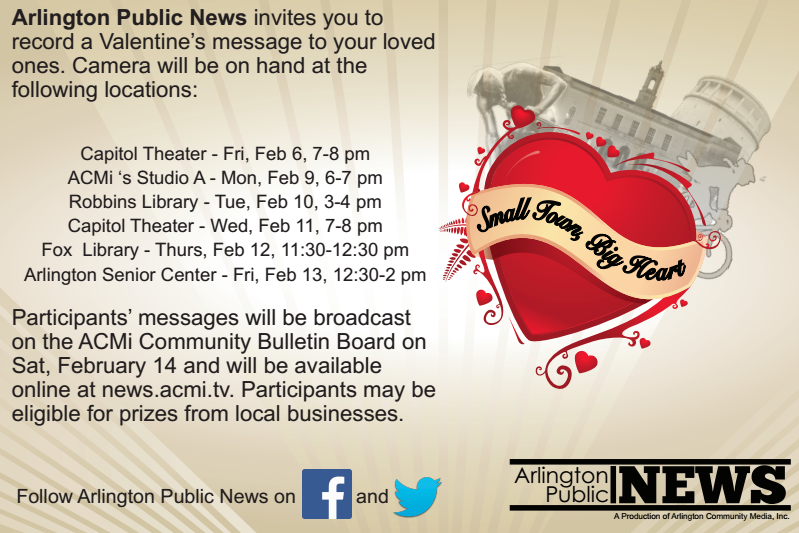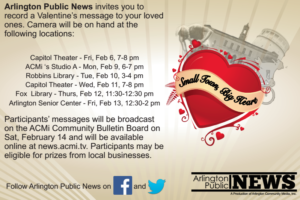 When I moved to Arlington from busy Davis Square a couple of years ago, relocating to a dry town – no alcohol in restaurants or neighborhood bar hangouts as of yet, and few locations open after dark – seemed like an acceptable compromise for more reasonable living space. As the months passed, I learned to appreciate the quality of life in Arlington – an easy commute to work, riding the bike path, and a broad range of free or affordable cultural programs, among other advantages. To navigate future challenges while maintaining the character of the town, local officials, helped by public participation, drafted a comprehensive Master Plan, which "envisions civic connections that encourage social interaction and foster a sense of community."
This is also what the project "Small Town, Big Heart" is all about. Staff, producers and volunteers at ACMi aim to deepen connections with our neighbors by using media as a vector. Arlington residents will be able to record video messages to their loved ones in our mobile media booth, which will circulate in town in the week leading to Valentine's Day.  ACMi will then broadcast the messages on Valentine's Day on our Community Bulletin Board. This slide show of announcements for the Arlington community is broadcast on all three of our cable channels between other programming.  APN will then post the messages online at news.acmi.tv. This lighthearted project fits both the spirit of Valentine's Day and the town's ambition to build bridges between people.
Why does such an initiative matter most now? In response to tensions within communities around the country, specifically in Ferguson, Missouri and New York, APN recently hosted a panel, "Global to Local: Race Matters," including several figures from town. One of the panelists, Bonie Bagchi Williamson, Ph.D, Co-Chair of Vision 2020 Diversity Task Group, said about Arlington: "I have been living here for 10 years and it is a very nice community […] but […] we are like a big house, where families of color, and people of color, and internationals, and white families, we are like roommates. You know, we live, we are polite, we rub shoulders in the kitchen […] but there is not really an exchange." Indeed, Arlington is a nice town and we'd like to think that hate episodes against any group that has suffered discrimination would not happen in our backyard. But the reality is that it takes iterative actions, incremental changes, and upbeat initiatives like "Small Town, Big Heart" to build bridges, open dialog, and shape this idyllic community. Like implementing the vision of the Master Plan, building the foundation for the exchange Bagchi Williamson is calling for will take years. Recent events in other communities remind us that it is urgent to start now.
ACMi is happy to join other amazing individuals and organizations in town that are making striking progress, in various areas, in strengthening relations between residents. Our volunteers will run the mobile media booth in several neighborhoods, from Arlington Heights to East Arlington, allowing a diverse range of residents to take part in this project. Local businesses are also involved in this enterprise, by either hosting the booth or providing Valentine prizes to participants. Valentine's Day is a great opportunity to further our mission of placing the latest video production within reach of any Arlington resident – we invite our town to show some love!