It's going to be a while until we hear alleged Boston bomber Dzhokhar Tsarnaev speak. This is not only because opening statements have been delayed–whether by snowstorm or the slower-than-anticipated jury selection process — but also because the 21-year-old has not said a word (at least not that the viewers who watch from a live-feed have heard) during the process.
I sit in an overflow courtroom with a few others who I presume are reporters, and watch from one of the two large TVs that livestream what is happening in the courtroom where Tsarnaev, Judge O'Toole, and the prosecution and defense teams sit at a round table while prospective jurors, one after the other, enter–their time to sit in the hot-seat has arrived.
It was hard for me not to keep my eyes glued on Tsaranev when I first attended the trial. After all, who isn't curious to see the person allegedly responsible for the horrific and devastating bombing during the 2013 Boston Marathon? Much to my dismay, I quickly realized that I would not glean anything about this man – his face often obscured by the lawyer's own – other than that he fidgets. A lot. More often than not, he's either picking at his trimmed beard or hair, or lying his head back, slouching to one side or the other, or sometimes writing, perhaps reading or drawing, on a piece of paper that's too far away for viewers to see.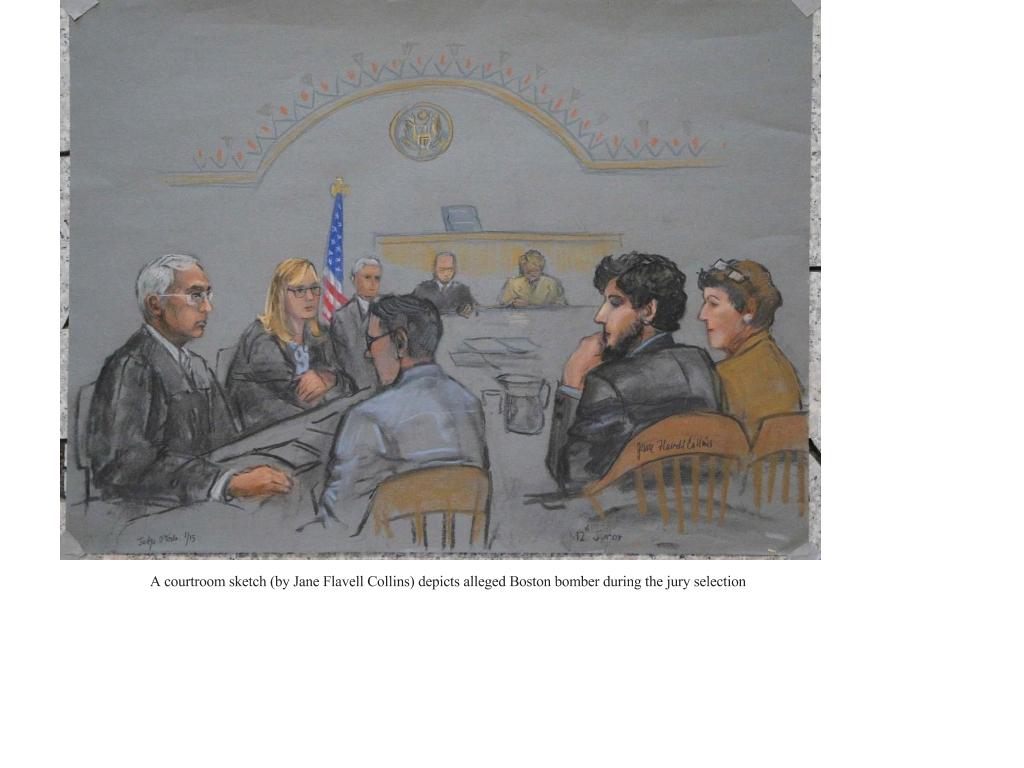 So, I turn my attention to the group of individuals who DO speak, make gestures, and display some sort of emotion – whether frustration when an objection is sustained, or a demeanor one can only describe as calm. These people include Judge O'Toole, the federal prosecutors, and Tsarnaev's team of defense attorneys; and, of course, the juror, or, rather, the back of the juror's head. (The camera is positioned in a way that captures only the back of a juror's head, which is the court's effort to protect his or her privacy.)
But you would be surprised how much you can learn about these faceless individuals as they answer the follow-up questions from the initial paperwork they filled out – you get a sense of their personal life, their values and beliefs. I have heard a man talk about when, at 18 years old, he served as a witness in a murder case – a case in which his friend was accused of killing his own wife and child. I've heard a medical secretary in a urology office talk about her brother – an army sergeant – with whom she does not discuss his time in the military because "he's my [younger] brother and [it] makes me nervous." I've heard jurors work through their thoughts on the death penalty and express that, as of late, they have done some "soul searching" in an effort to understand how they feel regarding the death penalty.
On each occasion I've attended, the process goes something like this: the screen blacks out – it's time for the next juror to enter. The screen comes back on – a new juror has sat down. The first few questions Judge O'Toole asks are rather mundane (even if necessary): have you been on social media upon finding out you were a potential juror? Were you to be selected as a juror in this trial, would you be able to come to a trial that could potentially last four months – running Monday through Thursday 9am to 4pm? Is missing work a problem? Would your employer continue to pay your salary while the trial goes on?  Of the responses I've heard, the jurors, ultimately, say they can sit on the jury, with some expressing small concerns over whether or not an employer will pay them, or getting to court late on mornings they need to drop off their kids at school.
It's the next few questions that get interesting: the Judge asks a series of questions regarding the prospective juror's attitudes toward the death penalty.  For example, on Friday, February 6th, Juror 350 – a man from Puerto Rico who moved to the United States 15 years ago – expressed that he is pro-death penalty in general, adding "I'm not saying everyone deserves it but in some cases [the death penalty can] send a message." Defense Attorney David Bruck spoke up later, asking, "What do you mean by 'send a message'?" Juror 350 responded, "We are the United States and we don't allow this type of behavior. I have no complaint about the U.S. They've been very good to me…we have a strong judicial system and we know how to handle this." Bruck pressed further, "And by knowing 'how to handle this' you mean what?" The response: "Highly politicized cases can be fair enough to do a trial." To this Bruck asked, "And to impose the death penalty?" He responded: "If necessary." Juror 350 was then dismissed for the day – whether or not he "made the cut," is unclear as that information has not been released to the public.
That same day, Juror 352, a woman with red hair, expressed a different feeling, saying, "I just naturally lean towards being opposed to the death penalty." Following her was Juror 353, who was more than opposed to the death penalty, and boldly remarked, "I'm just totally against it so I don't know how many thousands of rounds were shot at that boat, you couldn't kill him then, I'm not gonna kill him now." The last question asked was whether or not his opposition to the death penalty would mean he would "never be able to impose it regardless of the facts." To this, Juror 353 responded: "Correct." Before dismissing the juror, the Judge asked if his answer was "inflexible?"  He responded: "Absolutely."
A question I've heard raised by at least three jurors is: "I'm not sure what's worse – the death penalty or life in prison." On January 26th, Juror 207 wondered, "In some ways, life in prison is kind of a more serious punishment than the death penalty…gives the individual a long time to contemplate things and missed opportunities."